I test-drove a two-passenger Smart car -- actually written in all lowercase letters as "smart fortwo" -- while searching for a new, fun-to-drive car. I came away from my local dealership with the impression that these vehicles are overpriced for their features and functionality. But I awoke the next morning with an "Ah-ha!" that Mercedes-Benz USA is not marketing them to the age group that would be served best by these vehicles.


At no charge to MBUSA and only half in jest, here are fifteen marketing reasons why the 2010 smart fortwo line-up sold in the USA is perfect for the elderly.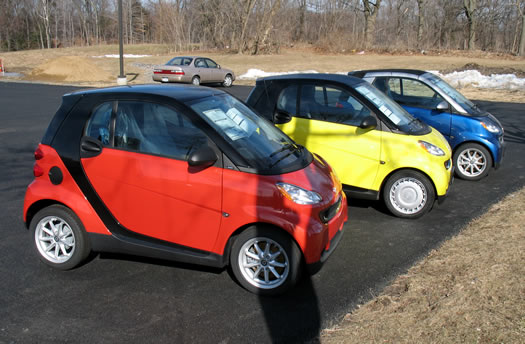 1. Safety
The safety features are stellar. Youth do not care about safety; the elderly do.
2. Entry/Exit
The seat pans are some 8 inches higher than in other cars, making the smart fortwo perfect for the elderly, who have trouble sitting down and standing up.
3. Through-the-Windshield Visibility
Another advantage of the higher seat pans is that it puts the elderly driver's head 8 inches higher, to avoid the classic -- and unsafe -- problem in which the shrinking elderly must look through steering wheels to drive.
4. Convertible Top
The polyacrylic fabric top on the smart fortwo passion cabriolet can be opened and closed while driving at any speed, making it perfect for forgetful elderly.
5. Exterior Size
As an elderly individual's vision deteriorates, it does not help to drive a boat of a car. The reason that you do not see the hood of a smart fortwo as its driver is because there essentially is no hood. This is perfect for the elderly.
Also, as elderly individuals "down-size" out of large homes with spacious two-car garages into tightly packed townhouses with narrow one-car garages, the smart fortwo makes increasing sense.
6. Cabin Size
The smart fortwo has a big-car feel and spaciousness inside, leaving plenty of room for canes and other paraphernalia of the elderly.
7. Storage Compartment
The smart fortwo has very little room for grocery bags or luggage, but the elderly do not eat as much and do not travel as far by car. Plus, the flip-up rear window and flip-down rear door make storage access easy.
8. Automatic Manual Transmission
The automatic transmission -- trademarked as "smartshift" -- is actually a manual transmission with a computer that tells the car when to shift through its five gears. Unfortunately, the computer program seems to be a replica of how a bad manual-transmission driver would shift a transmission. While most American drivers would be disappointed by the jerkiness of the shifts, these are perfect for keeping the elderly awake and attentive to their driving.
9. Two Seats
Youth like to go on road trips with lots of friends. The elderly tend to stay home and be pickier about their friends, so two seats are all they really need.
10. Gas Tank
Given that the smart fortwo requires premium gasoline, its 8.7-gallon fuel-tank capacity will not shock penny-pinching elderly individuals at each fill-up. Plus, the 1.3-gallon reserve portion of those 8.7 gallons gives them plenty of time to forget and remember that their smart fortwo is running on empty.
11. Acceleration
The smart fortwo takes a long 12.8 seconds to go from 0 to 60 MPH. This gives pedestrians and others several precious seconds to get out of the way of an oncoming elderly driver.
12. Fuel Consumption
Fuel economy ratings of 33 MPG city and 41 MPG highway are sure to appeal to the budget-conscious elderly.
13. Turning Circle
How many times have you seen an elderly driver struggle to turn around a car -- or even to back out of a parking space? The 28.7-foot turning circle of the smart fortwo almost crushes this problem.
14. Heated Seats
The elderly are much more sensitive to cold temperatures than the population at large, but heated seats -- described in the smart fortwo brochure as "one of the greatest automotive inventions ever" -- are standard in these cars.
15. Stand-out Looks
The smart fortwo will be a head-turner in the USA for years to come, ensuring that anyone who wants to know that an elderly driver is approaching will see the driver well in advance of when that driver will see him or her.
Article Source: http://EzineArticles.com/?expert=Dr._Kirk_Mahoney