Dozens of carmakers lined up their newest products at a recent luxury car show in Beijing that has brought out China's curious and most wealthy. The Chinese are a hard working culture and enjoy personal rewards such as high-end cars. Luxury car sales in China have soared in recent years, becoming one of the fastest growing segments of the market, even outselling the United States. Automakers sold 13.4 million vehicles last year, a vast majority of these going to Chinese consumers, making them the world's largest auto consumer.
In the first few hours of the Beijing Auto Show, where nearly 1,000 vehicles have gone on display, two Rolls Royce cars were sold, each fetching prices of around $1.3 million dollars or nine million yuan. Ferrari also showed off a new limited edition 599 GTO model. The Italian sports car maker has made only 599 of these cars, which can reach 335 kilometers per hour or 220 miles per hour, making it Ferrari's fastest consumer car.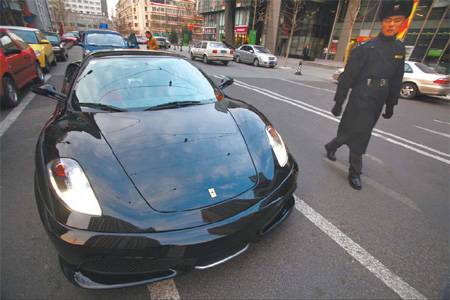 For those who have a Ferrari fetish, you may be disappointed to know that all of the cars have already been sold, including 20 in China. Ferrari would not publicly divulge the price of their new 599 GTO. China has the second highest number of billionaires in the world after the United States. The Chinese are getting very rich, very quickly and they are willing to spend their hard earned money on the most luxurious goods.
The Chinese are auto enthusiasts who love to drive and they love their chosen brands. Successful entrepreneurs like to purchase items to show their wealth. The Chinese market has been the savior for foreign automakers, as sales remained strong during the North American recession.
Carmakers are expecting strong sales growth in the Chinese market in the following years ahead. Aston Martin, a British sports carmaker, entered the Chinese market in 2007 and had record sales, making it their top market over an 18-month period, while Ferrari sold more than 200 cars in China last year. Rolls Royce has developed an extra long car for the chauffeur driven Chinese market and expects sales to more than triple to 300 and 400 cars, which would make it the number two market in the world.
Article Source: http://EzineArticles.com/?expert=Molly_Wider